Inspection
IQS Inspection, a Business Unit of C-UTS(China National Textile And Apparel Council Testing Center ),was established in 2012. Our goal is to provide one-stop service to make sure product quality throughout your entire consumer goods supply chain with our professional experience in managing all types of inspection program.
Six offices have been set up in the major textile and garment industry clusters in China, including three full inspection centers: Shenzhen office, Beijing office, Shaoxing office in Zhejiang Province, Shengze office in Jiangsu Province, Xiqiao office in Guangdong Province and Humen office in Guangdong Province. The full inspection centers are divided into Guangdong Dongguan full inspection center, Jiangsu Kunshan full inspection center and Zhejiang Shaoxing full inspection center. The total area of the inspection center is more than 6000 square meters
The inspection service, also known as notarized inspection or export inspection in import and export trade, is based on the requirements of the client or buyer, on behalf of the client or buyer on the quality of supply and other relevant content in the order, purchase and sales contract An activity of inspection and acceptance is to check whether the goods supplied by the supplier meet the requirements of the order contract and other special requirements of the buyer.
Protective Equipment Inspection
Accreditation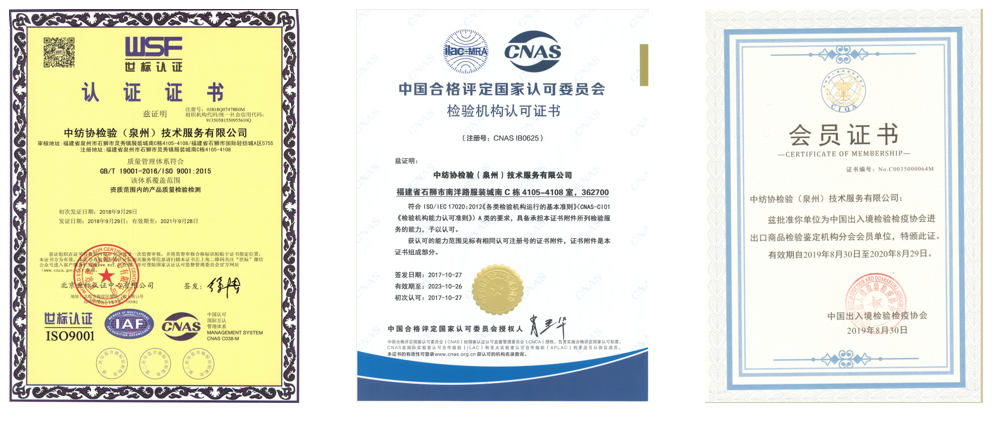 Inspection area:China、Japan、Korea、Southeast Asia、Turkey
Product category:
Consumer goods& Retail category:
Fabric
Textile&Leather
Luggage & Bags
Food
Cosmetics& Skin care
Toys&stationery
Maternal and Infant Products
Electronic products:light fittings、audio and video products、telephones、computers and accessories、sanitary ware and plumbing
Furniture & Furnishings:bed、table、chair、sofa、curtains
Gifts
kitchenware:kitchenware、ceramics、garden tools
Jewellery&Clocks&Watches

We are committed to safeguarding the interests of international brands, retailers and importers, as well as the quality of products purchased by buyers in Asia.
Benefits of inspection:
To check whether the goods supplied by the supplier conform to the quality requirements stipulated by the national laws and regulations or the relevant national standards;
Avoid delivery delays and product defects in a timely manner and take emergency and remedial action as soon as possible;
To reduce or avoid consumer complaints, returns, and loss of business reputation arising from the receipt of inferior products;
Reduce the risk of compensation and administrative punishment caused by selling inferior products;
Verify the quality and quantity of the goods to avoid contract disputes;
Compare and select the best suppliers and obtain relevant information and suggestions;
Reduce high overhead and labor costs for product monitoring and inspection;
1、SA 8000
Ensuring supplier meet the standards of social accountability and local labor laws: child labor, force labor, health & safety, compensation and management systems. IQS auditors perform social audits based on a myriad of different standards to help your suppliers improve and achieve full certification.
2、Factory Audits
Independent appraisal of the quality and capacity of your supplier's production facilities in strict accordance with ISO 9001.IQS auditors can prepare a corrective action follow up audit to ensure the non conformities have been modified.